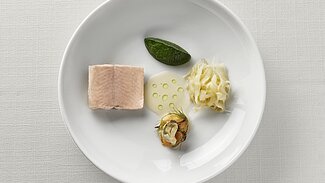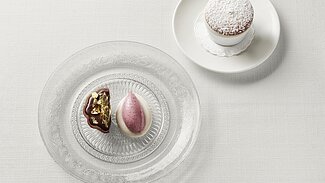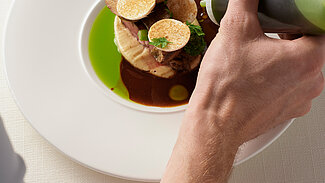 Your lifestyle hotel in the Zillertal valley
Restaurant KLE
Bold. Delicious. Elegant.
The new à la carte restaurant KLE
New, fresher and even more creative from winter 2022.

The decision to create the new à la carte restaurant KLE developed quietly as an idea that grew louder and louder. And has now finally fully developed its own culinary sound. The classic gourmet cuisine with exquisite ingredients from all parts of the world is replaced by a new vision:
KLE cooks. "Clear. Light. Real."
With a new awareness of old traditions and fresh enthusiasm for visionary sustainability.
This means that Klemens Huber really cooks himself. With what nature and the season provide.
Whatever top-quality ingredients are available. And what offers the most flavour.
So wild garlic in spring, tomatoes in summer and wild, chestnuts & co. in autumn. Biscuits at Christmas and pickled vegetables in winter.
But no asparagus in the depths of winter - and no goose in high summer either.
Klemens Huber has taken a shine to the Austrian-Alpine
On the one hand traditional, on the other hand interpreted in a light and modern way. But above all, the gourmet chef is about authenticity. Emphasising what is genuine and honest. Conserving resources. And tasteful. That's why he develops his gourmet dishes with ingredients from the region, the season and what doesn't have to be shipped halfway around the world to end up on your plate.
The culinary cornerstones in the new KLE
There is what there is. And that is always an up-to-date menu.
Please reserve your table at least one day in advance
Please let us know your intolerances or allergies when you make your reservation.