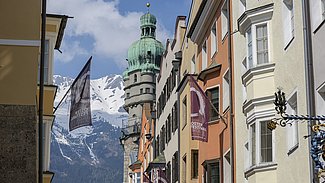 Your lifestyle hotel in the Zillertal valley
Nestled in the Tyrolean mountains, Mayrhofen's main shopping street offers all the latest fashions, cutting-edge sports equipment, and gorgeous accessories. Go shopping in the Zillertal valley Set off on a special kind of discovery tour through the idyllic town centre, and explore its main shopping street.
Shopping in the Tyrolean capital
When staying in the Zillertal valley, remember that Innsbruck is less than an hour away. The Tyrolean capital is a lovely destination for a little shopping spree peppered with cultural highlights. Don't miss a chance to see the famous "Golden Roof". Then, stop in one of the nearby cafés for a little break in the heart of the old city, before setting off to browse through the boutiques and shops.
The DEZ shopping centre in the Amras district offers 134 specialty stores, restaurants, and cafés, making it the largest mall in Tyrol. At 5,300 m², the Sillpark mall in the city centre is just as impressive as it is diverse. This fascinating new building's wide range of shops and restaurants make it an inviting place to shop and enjoy a bite to eat.