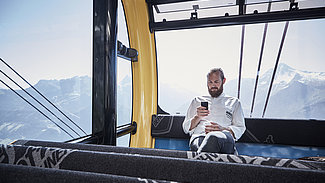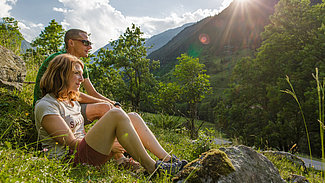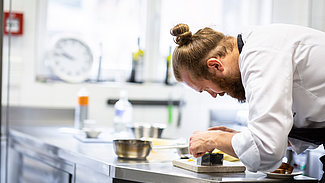 Your lifestyle hotel in the Zillertal valley
Useful information
Everything you need to know about your lifestyle hotel in the Zillertal – and a little extra
HUBERS 3/4 culinary board
Breakfast buffet from 7.15 am to 10.00 am
Culinary pension menu (4-course menu of your choice with salad buffet) from 6.30 pm to 8 pm (please take the seat between 6.30pm latest till 8pm.)
On warm summer days, we also serve an afternoon snack on our terrace or in the garden from 3 pm - 5 pm
Free parking for cars
Lockable bike / ski room
GREEN SPA
Heated outdoor pool with inside entrance
Clothing sauna in the tower and lawn
HUBERS cuisine a la carte in our toque restaurant
Tuesday till Saturday from 6.30 pm to 8.00 pm
Table reservation desired
Check in: from 3 pm
Check-out: by 10 am
Luggage room accessible all day
Late Check Out: on request | Euro 40,00
Pets: on request | Euro 25,00/day
Bathrobe

You'll find a plush bathrobes and a wellness kit with wellness towels and slippers in your room to wear when visiting our GREEN SPA.
Pillows

Our cleaning staff will gladly provide you with additional pillows.
GREEN SPA

The sauna is a nude relaxation area, we ask that you follow the dress code (nude, with towel). Children are therefore not permitted in the sauna area, out of consideration for other guests.
Summer
Winter
Sauna & relaxation area
3:00 PM to 8:30 PM
3:00 PM to 8:30 PM
Heated outdoor pool with indoor entrance
7:30 AM to 8:00 PM
7:30 AM to 9:30 AM &
3:00 PM to 8:00 PM
Panorama sauna
7:30 AM to 8:00 PM
7:30 AM to 8:00 PM
Quiet nights
Out of consideration for other guests, we ask that you turn your radio, TV, and other entertainment down to a reasonably low volume between 10:00 PM and 7:00 AM. Please do not make noise in the corridors – thank you!

Children in the boutique hotel
Our prices are per person and night and are shown in Euro.
Price includes 3/4 culinary board excluding local tax Euro 2.20 per person / day from 15 years
Deduction for bed and breakfast Euro 20 person per night.
Group prices: on request
Double room for single use: on request
Check-out time

Please vacate your room by 10:30 AM on your check-out day. If you would like us to hold your luggage for you, just contact the reception desk.
Bike room (summer).

Your room card will grant you access to the bike room, located in the hotel's lower level.
Guest pass

The Mayrhofen Guest Pass offers discounts for the Mayrhofen cable cars, Europahaus events, Mayrhofen water parks, slide show presentations etc. For more precise information, consult the back of your guest pass.
Dogs

Out of consideration for other guests, dogs are not allowed in the restaurant, the wellness area, or the kitchen. They are welcome in all other areas of the hotel (€25.00 per day).
Internet

W-LAN is included free of charge. You may request an access code to our premium Internet service at the reception desk, for a fee.
Parking

We offer plenty of outdoor parking spaces. We accept no liability for parked vehicles.
Check in / Check out
Check in: from 3:00 PM, check-out: by 10:30 AM – lockable luggage room accessible all day; You can visit the Day SPA until 6:00 PM on your day of departure. (Clothed sauna and pool) €22.00 per person
Late check out: depending on availability, we may be able to offer you a late check-out until 6:00 PM for an additional €40.00. Please inquire at the reception desk during your stay.
New from December 2021
Gym Room - fitness equipment and Gym
Harmony Room - various heated loungers for pure relaxatiobn in a healthy way
Discount in multi-bed room from 2 full paying people
0 - 2 years pay Euro 35.00 per day (baby cot included)
3 to 12 years – 30% of the daily price
Children from 13 years – 10% of the daily price
Local taxes: €2.20/per person and per day for all guests over 15 years
Group rates upon request
Double room for single use: price provided upon request
Discounted rates for children sleeping in the parents' room (with 2 full-price guests): 3-12 years: 30%, from 13 years: 10%; babies up to 2 years: €35.00 per day (baby cot included)
Pets:: starting at €35.00 per day, food not included
Smoking in the rooms is forbidden!

All included services are listed here.

Also available for reservation at Huber's

Summer and winter: Zillertal golf course: 20% discount on the green fee
Winter: 10% discount on ski rentals with our partner sports stores
Summer: 10% discount on bike rentals with our partner sports stores
We are Action Club Partners: our guests enjoy a 10% discount on all outdoor activities in both winter and summer
We require a down payment of 25% of the invoice amount. You can do this by bank transfer or you give us your credit card details.
For payment we accept the room bill, EC card, MasterCard and VISA (minimum amount EUR 70.00)
You are also welcome to transfer the invoice amount to our account in advance.
Credit cards

We accept: Eurocard, EC cards, Mastercard, and Visa. Please note that we require a € 50.00 minimum spend on credit cards.
Payment
To make a binding reservation, we require 25% deposit. You may pay this deposit via bank transfer, or provide us with your credit card number and the card's expiration date.
When paying the room bill, we accept EC cards, MasterCard, and Visa (for bills of € 70.00 or more).
Bank details:
Huber Gastro GmbH & Co KG, Sparkasse Schwaz AG,
IBAN: AT33 2051 0001 0002 5139, BIC: SPSCAT22XXX, VAT number: ATU5074107
Cancellation Conditions Summer 2022
Cancellations are only valid when made in writing
Cancellation fees are calculated based on the total amount of the invoice, minus 3/4 board (Euro 8,00 per person and day) and local taxes.
3 months before your vacation – no cancellation fee

22 days before the start of the vacation, the deposit will be retained. This can be used within 12 months for a booking change or alternative booking.

21 to 8 days before arrival - 50% cancellation fee

7 to 1 day before arrival - 90% cancellation fee

In case of no-show or early departure - 100% fee
We recommend travel cancellation insurance. You can find the link on our website
Mistakes and typing errors reserved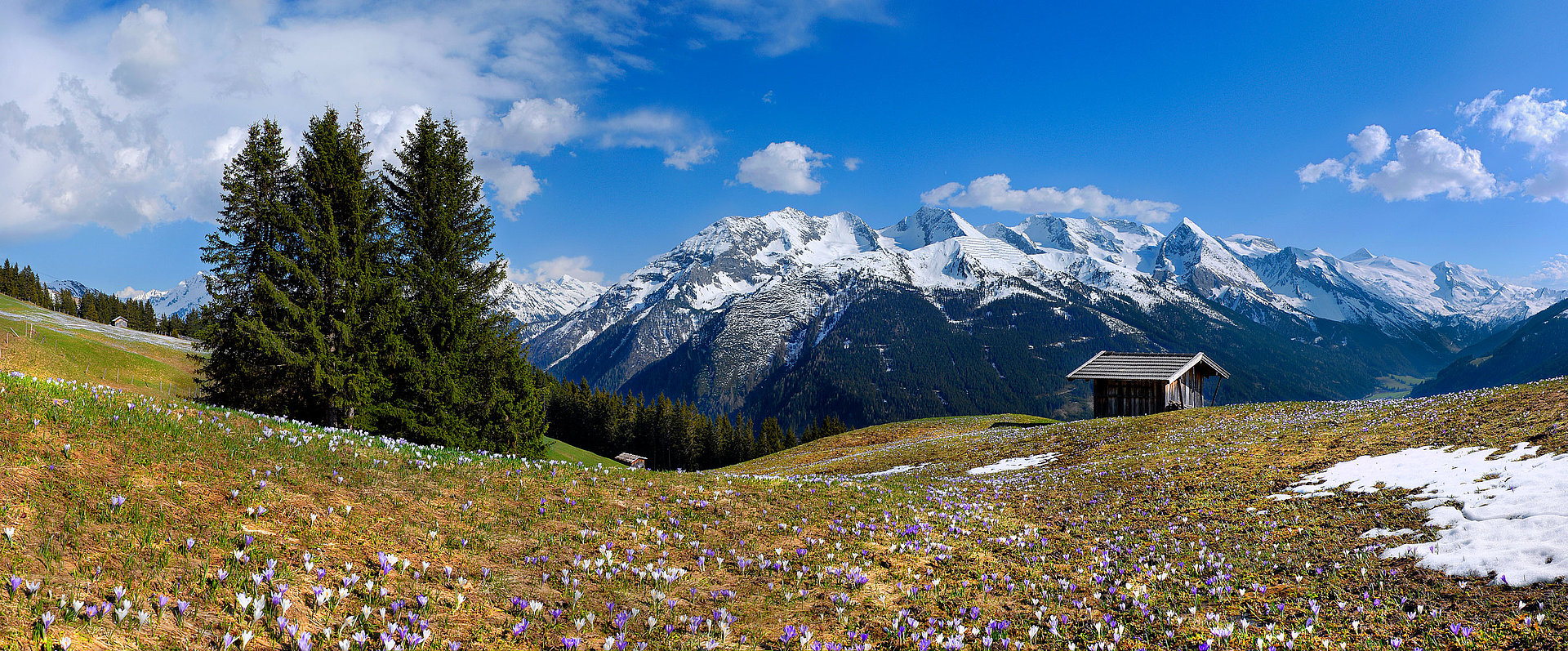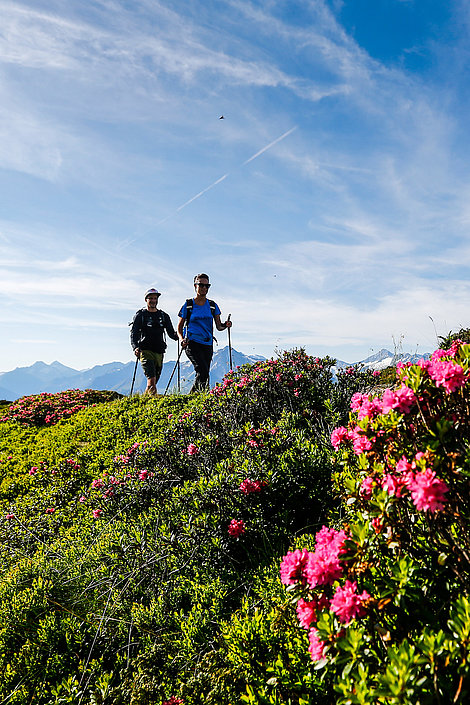 Zillertal
The highlight of your holiday in the Zillertal valley at HUBER's boutique hotel is of course the valley itself, with its majestic, three-thousand-metre peaks, its stunning Alpine nature, and its unique local charm. The setting is reason enough to come visit