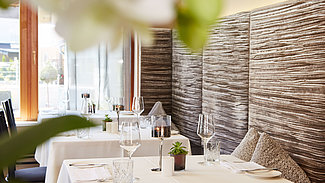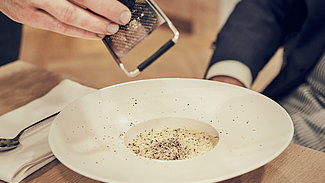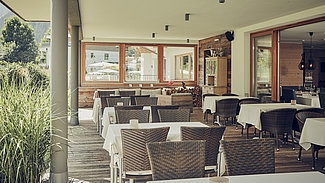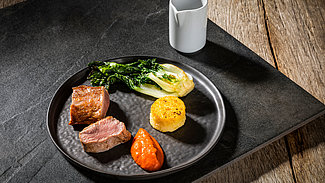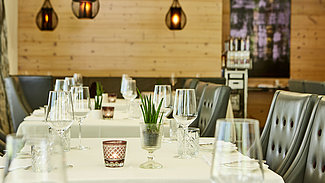 Your lifestyle hotel in the Zillertal valley
Gault&Millau
Awards for "Huber's À la Carte"
The Huber family celebrates its first Gault&Millau toque award
Gault&Millau Austria: The Tyrolean Zillertal town of Mayrhofen has a new, award-winning restaurant. The Gault&Millau 2018 fine dining guide is out, and Klemens Huber has been awarded a toque for his "Huber's À la Carte" restaurant at HUBER's boutique hotel.
The Zillertal valley's own Klemens Huber is positively beaming. And for good reason, because the Gault&Miller toque award he just received for his restaurant, "Huber's À la Carte" is a new milestone in his career. For this passionate chef, the toque marks the culmination of a long-standing life dream.
"Bringing my ideas to life was a gamble, and it took a real leap of faith at first." [...]"

He has been the chef at his parents' boutique hotel since 2009

With his passion for cuisine, food, and cooking, Klemens Huber didn't fall far from the tree. Even as a child he would often help out in the kitchen of his family's hotelafter school. "I've always been fascinated by what goes in on the kitchen. After school, I would come help our chef prepare the food and make dumplings,"Klemens Huber recalls, recounting his first steps on the kitchen floor. "And as time went on, I never lost this fascination with cooking."After am apprenticeship at the 5-star Stock Resort Hotel, he went on to work under Chef Alexander Fankhauser, who currently enjoys three toque awards of his own. "That's where I really developed my passion for gourmet cuisine,"Huber explains. After the Lamark restaurant in Hochfügen, he cooked with Gerhard Kriessman, another Gault&Millau toque holder, at the Schalber wellness hotel in Serfaus. Since 2009, he has been the head chef at his parents' boutique hotel in Mayrhofen.

"[...] It all paid off. But I always found traditional cuisine a little boring. [...]"

Culinary journey in the Zillertal valley

He quickly re-shaped the restaurant according to his own, signature cooking philosophy. "That was a big step, with big changes. Bringing my ideas to life was a gamble, and it took a real leap of faith at first. But it all paid off,"Klemens Huber recalls. Today, Mayrhofen is more than ready for dishes like "young venison with chocolate cannelloni," "lobster foam soup," and "lemon grass and lobster ice cream". "They're enjoyed by both hotel guests and locals alike,"Huber says. The Zillertal valley native describes his cooking style as "A mix of Austrian Alps traditions and simple cooking, with a modern twist.".His inspiration? Huber draws from his own travels,which he avidly pursues whenever he has the time. Recent destinations include Hong Kong, the United States, and Denmark. He also looks up to Austria's elite chefs, while also thinking outside the box. Huber: "Taxacher, Reitbauer, Döllerer, Sieberer... There are so many luminaries in Austria's culinary landscape. It's a fantastic thing, and I find it so inspiring."

Image gallery

Your wellness hotel in the Zillertal

read more

Your restaurant in the Zillertal valley

made with passion by GO.WEST